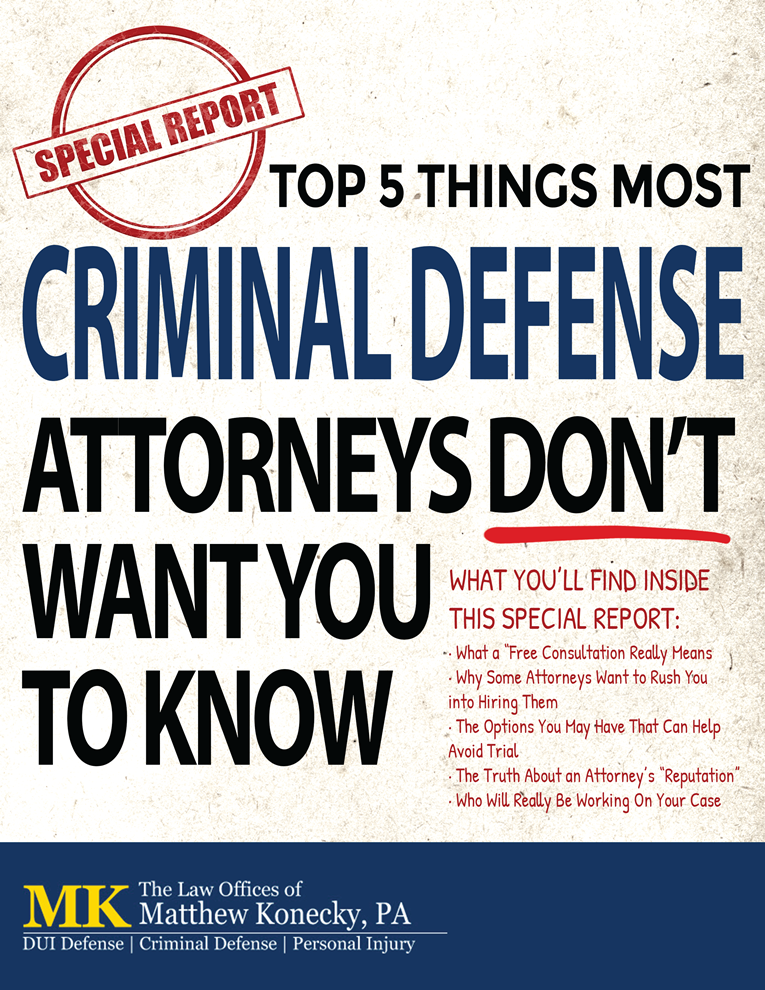 When you have been charged with a crime in Florida, the information you need to protect your rights should not be kept from you. However, some criminal defense attorneys will withhold vital information until you agree to hire them. At The Law Offices of Matthew Konecky, PA, we take a different approach. We believe you have a right to this information, and we provide it to you free of charge and with no obligation to hire us. By requesting a free download of our guide to criminal defense in Florida, you will get the facts about criminal law, defense attorneys, and more.
So, What Are the 5 Things You Need to Know?
Whether you're guilty or not, being charged with a crime is scary. You want reassurance that everything is going to be OK and you're willing to believe almost anything a defense lawyer tells you. Here are the surprising statements I uncover and explain in detail in this free download:
A "free" consultation will not provide useful legal advice.
There is no rush to hire an attorney.
You may be able to get the charges dismissed without using an attorney at all.
No defense attorney has "special privileges" with the prosecutor's office.
The lead attorney in a high-profile law firm will not be working on your case.
If these statements contradict messages you have already heard from an attorney you are considering hiring, you owe it to yourself to request my free guide to find out why I believe they are true. If you haven't begun your search for a defense attorney yet, this information can help guide your search for the best attorney for your case.
Get Your Free Copy Today!
Requesting a digital copy of Top 5 Things Most Criminal Defense Attorneys Don't Want You to Know does not commit you to hire my firm. However, if you would like to learn more about my firm, contact us today!
Fill Out the Form Below to Get Your Copy